Factores clínicos laboratoriales y sobrevida en pacientes hospitalizados con diabetes mellitus tipo 2 infectados por SARS - CoV2 en Iquitos 2020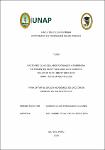 Date
2023
Author
Parimango Alvarez, Marcos Hugo
Abstract
Type 2 Diabetes Mellitus (T2DM) and SARS-COV2 infection are associated with increased severity and mortality in hospitalized patients. Therefore, the objective of our study was to determine the clinical, laboratory and survival factors in hospitalized patients with type 2 diabetes mellitus infected by SARS-COV2 in Iquitos. A quantitative, cross-sectional study was carried out that evaluated a retrospective cohort of hospital medical records during the year 2020 and involved records of 150 patients with DM2 and SARS-COV2. The Kaplan Meier test and Cox regression with the SPSS 25 tool were used. The results show that the survival time of 50% of the patients was 12 days and a mortality of 35%. Survival time was associated with age over 65 years and presence of cough P <0.05. It was concluded that survival time was related to age and presence of cough.
La Diabetes Mellitus tipo 2 (DM2) y la infección por SARS-COV2 se asocia a mayor severidad y mortalidad en pacientes hospitalizados. Por lo cual, el objetivo de nuestro estudio fue determinar los factores clínicos, laboratoriales y sobrevida en pacientes hospitalizados con diabetes mellitus tipo 2 infectados por SARS-COV2 en Iquitos. Se realizó un estudio cuantitativo, transversal que evaluó una cohorte retrospectiva de registros médicos hospitalarios durante el año 2020 e involucró registros de 150 pacientes con DM2 e infección por SARS-COV2. Se empleó el test de Kaplan Meier y regresión de Cox con la herramienta SPSS 25. Los resultados muestran que el tiempo de sobrevida del 50% de los pacientes fue de 12 días y una mortalidad del 35%. El tiempo de sobrevida se asoció a presencia de tos P <0.05. Se concluyó que el tiempo de sobrevida se relacionó la presencia de tos.
Diabetes mellitus tipo 2 (DM2) e infecção por SARS-COV2 estão associados ao aumento da gravidade e mortalidade em pacientes hospitalizados. Portanto, o objetivo do nosso estudo foi determinar os fatores clínicos, laboratoriais e de sobrevida em pacientes hospitalizados com diabetes mellitus tipo 2 infectados por SARS-COV2 em Iquitos. Foi realizado um estudo quantitativo, transversal, que avaliou uma coorte retrospectiva de prontuários hospitalares durante o ano de 2020 e envolveu prontuários de 150 pacientes com DM2 e SARS-COV2 . Foram utilizados o teste de Kaplan Meier e a regressão de Cox com a ferramenta SPSS 25. Os resultados mostram que o tempo de sobrevida de 50% dos pacientes foi de 12 dias e uma mortalidade de 35%. O tempo de sobrevida foi associado à idade acima de 65 anos e presença de tosse P < 0,05. Concluiu-se que o tempo de sobrevida esteve relacionado à idade e presença de tosse.