Programa educativo convivencia escolar para el mejoramiento de técnica de disciplina en el aula en estudiantes de quinto grado de secundaria en la Institución Educativa 60054 José Silfo Alvan del Castillo Iquitos 2022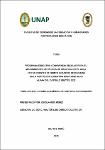 Date
2023
Author
Rios Pérez, Cecilia
Abstract
This section provides a brief summary of the research findings after having carried out the evaluation of the effects of the educational program school coexistence on the improvement of discipline techniques in the classroom with students. For this purpose, the evaluative research was applied with a quasi-experimental, field, univariate, longitudinal design, with a single group of 56 participants of the study, who in turn were the population and sample, who went through a before and an after during the study. Prior to the collection of information, the instrument was validated by experts, generating a main finding that evidences the effectiveness of the discipline techniques of the educational program of school coexistence that in the before was regular in 100% (56) and in the after after after the application of the educational program, the effectiveness was regular for 50.0% (28), for 42.9% (24) good and for 7.1% (4) very good.
En este acápite se evidencia un breve resumen sobre los descubrimientos de la investigación luego de haber realizado la evaluación de los efectos del programa educativo convivencia escolar en el mejoramiento de técnicas de disciplina en el aula con estudiantes. Para tal fin se aplicó la investigación evaluativa con un diseño cuasi experimental, de campo, univariado, longitudinal, con grupo único de 56 participantes del estudio, quienes a su vez fueron la población y muestra, quienes pasaron por un antes y un después durante el estudio. Previo al recojo de información el instrumento fue validado por expertos, generando un hallazgo principal que evidencia la efectividad de las técnicas de disciplina del programa educativo de convivencia escolar que en el antes fue regular en el 100% (56) y en el después luego de la aplicación del programa educativo, la efectividad fue regular para el 50.0% (28), para el 42.9% (24) buena y para el 7.1% (4) muy buena.
Esta seção apresenta um breve resumo dos achados da pesquisa após a realização da avaliação dos efeitos da convivência escolar do programa educacional no aprimoramento das técnicas disciplinares em sala de aula com os alunos. Para tanto, aplicou-se a pesquisa avaliativa com delineamento quase experimental, de campo, univariado, longitudinal, com um único grupo de 56 participantes do estudo, que por sua vez foram a população e a amostra, que passaram por um antes e depois durante o estudo. Previamente à coleta de informações, o instrumento foi validado por especialistas, gerando um achado principal que evidencia a efetividade das técnicas disciplinares do programa educativo de convivência escolar que no antes era regular em 100% (56) e no pós após a aplicação do programa educativo, a efetividade foi regular para 50,0% (28), para 42,9% (24) bom e para 7,1% (4) muito bom.